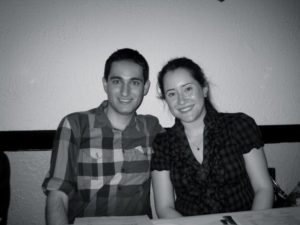 This is old news to some people, but on May 21, 2010 Adam asked me to marry him!
He surprised me with a day out at the Brooklyn Botanic Gardens for a photo walk (on one of the hottest days of the year that far) but ended up forgetting his camera's battery. We made do with my puny point-and-click and enjoyed each others company.
After an afternoon of walking and enjoying the flowers, he brought me to the cherry blossom trees and we sat down. If you know Adam, you know he's a bit of a procrastinator (like me!) We watched a group of people set up for what looked like a wedding and I could tell he was attempting to try to tell me something.
Unfortunately for him, his hesitation was too long and a security guard approached us and asked us to leave the area because the garden was closing (presumably for the event under the cherry blossoms!)
In the scurry of things, he first attempted to sit me down on one of the benches near the trees and as he began to talk a large Hasidic family was making its way across the grass towards us, yelling at their unruly children in the process. Adam rolled his eyes and tried for a third time to find a quiet and appropriate sitting place.
Finally, we walked around for a moment and sat me down on a bench as he stood and reached into his camera bag to pull out a ring box and presented me with my ring. Of course I said yes, we hugged and everything was happy. We then rushed off to the dinner he had scheduled that we were no doubt now late for.
He then surprised me once again when we showed up at the restaurant in New York City, we met up with his father, mother and sister and then shortly the rest of my family all the way from Pittsburgh and my sister from Philadelphia! "Mazel Tovs!" all around. We enjoyed a quiet but talkative evening celebrating our engagement and talked about tentative plans for a wedding next year.
Right now we are in the thick of planning a destination wedding for next summer in Aruba and hope to make a trip with our parents in the next month to scout some places out! We will also be having a reception in Pittsburgh and most likely its counterpart in New York City for our friends and family who won't be able to join us for our tropical ceremony.