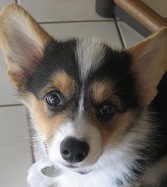 Yes, it seems every stupid thing out in the world has its own holiday, but today's "day" made me think.
I subscribe to the American Kennel Club newsletter and was alerted that today was "Pet Fire Safety Day." What does it mean to have a Fire Safety Day? For humans, it's easy. We teach kids to feel doors and door knobs to see if they are hot before you open a door and to crouch low when there is smoke, but how do we protect our fury friends who (as far as I can tell) are lost on the finer details of the English language.
I've thought about it before whenever I first moved into my own apartment almost a year ago. I've been good about keeping Isabella in the front room in her kennel so as to not let her wander around while I am gone until she is a bit older (she likes to chew on things and I have this fear she's going to chew a wire and electrocute herself if left alone.) I also keep her leash right next to the door so I always know where it is, especially in the case of an emergency. I will now have to see about getting myself one of those nifty "Rescue Pets Inside!" stickers for my front window (I remember having something like that on my bedroom window when I was a kid.)
AKC.org posted a nice page on their website dealing with some of the helpful things owners can do.
Extinguish Open Flames – Pets are generally curious and will investigate cooking appliances, candles, or even a fire in your fireplace. Ensure your pet is not left unattended around an open flame and make sure to thoroughly extinguish any open flame before leaving your home.
Pet Proof the Home – Take a walk around your home and look for areas where pets might start fires inadvertently, such as the stove knobs, loose wires and other potential hazards.
Secure Young Pets – Especially with young puppies, keep them confined away from potential fire-starting hazards when you are away from home.
Keep Pets Near Entrances – When leaving pets home alone, keep them in areas or rooms near entrances where firefighters can easily find them.
Practicing Escape Routes with Pets – Keep collars and leashes at the ready in case you have to evacuate quickly with your pet or firefighters need to rescue your pet.
Affix a Pet Alert Window Cling – Write down the number of pets inside your house and attach the static cling to a front window. This critical information saves rescuers time when locating your pets. You can obtain a free window cling here or at AKC Responsible Dog Ownership Days events.
Keep Your Information Updated – Firefighters are familiar with pet alert window clings so keep the number of pets listed on them updated. Knowing the accurate number of pets in the house aids rescuers in finding all of your pets.
Use Monitored Smoke Detection Services – As an added layer of protection beyond battery-operated smoke alarms, smoke detectors connected to a monitoring center help save pets who can't escape when left home alone.
Since I know many of the blogenning bloggers have dogs and/or cats, I thought this would be helpful information. 🙂