Last week we got back from a five-day trip down to Aruba to relax and, more importantly, scout out possible wedding sites! When I say "we" I mean me, Adam, my sister Jennifer, my mother, and Adam's mom and dad. It was a whole family affair! After all the walking around and scouting, at the end of the week I swore that if my dad had come along on this trip too I would have seriously been tempted to just elope right then and there!
We stayed at the Occidental that is an all-inclusive hotel. That gave us all our meals for free as well as access to a bunch of water sports. We were able to finally get some kayaking that I've been dying to do since I first did it on a river up in New Hampshire a few years ago on a camping trip the first summer I met Adam. He wasn't able to do it with me that time because his Grandfather passed away right before we were scheduled to make the trip, so it was really nice to finally be able to kayak with him.
Jennifer also snagged us a couple of hours of dedicated boat time Sunday morning at 9am which had to have been the perfect time to do it. It was still quite cool before the sun began to soak the beach and because it was Sunday morning, the boats and water skiers weren't in the port yet to cause wakes.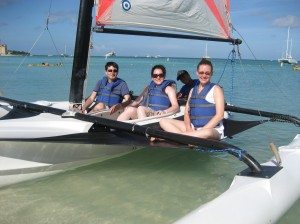 We rode on the boat from Palm Beach to the light house and passed the bed and breakfast we stayed at last February. I definitely prefer the calmer, non-touristy side of the island. The beach sand isn't as "nice" and curated but I think that is what makes it special.
After breakfast, Adam and I ran away and rented a Jeep for a day to off-road to visit some of the places on the island that we missed the last time we were in Aruba. Our main objectives were the Natural Bridge (or what's left of it,) the Arikok National Park, and Baby Beach. It would have been nice to go to the Natural Pools but you would have had to really go off-road in that part of the park and our vehicle wasn't up to the challenge.
We spent most of the afternoon going down to the Natural Bridge and snapping pictures too close to the edge of the cliffs. We then took the Jeep to maximum potential and rode around off-road to visit a few places in the park. One of them was a beach with a deadly rip-tide. We got our feet wet and were entranced by the almost translucent crabs that were desperately trying to shovel sand out of their hole-homes. (Very cute by the way!)
We stopped by the caverns just before exiting the park and were able to walk all the way in due to the holes open to the outside to let sunlight in. It was deathly stuffy in there due to no air flow which had been keeping me relatively comfortable while walking around outside in the blazing sun.
To finish off the trip, we managed to twist around and find our way down to Baby Beach. The thing about Baby Beach is that it is incredibly still, and has an extremely gradual slope so you are able to walk all the way out to the edge of the cove and still have your head  above water. It was here were we took our second try at snorkeling. Last year I had a less than desirable experience snorkeling at the bed and breakfast due to the abnormally harsh waves and I basically froze and had a panic attack in the water thinking I was going to drown. Adam had to physically drag me back to shore. Suffice it to say, I was quite anxious about trying to snorkel again!
I'm very glad to report that I was able to get over my phobia of snorkeling and enjoy the colorful aquatic life that swam under the currents. I took it bit by bit and was able to putter around under the water without freaking out and impressed Adam when I was able to catch up with him after telling him to go ahead and enjoy without me while I went at my own pace.
We spent the rest of the afternoon wading in the water and decided that we should head back because our mothers were probably having fits wondering where on the island we were. 🙂 On our ride back we enjoyed taking the top off the Jeep, listened to some local dance radio, and watched the sun slowly creep towards the horizon.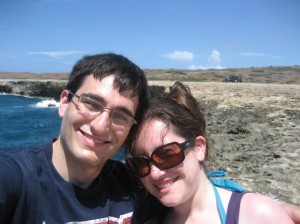 Of course our main assignment was to find out where we wanted our wedding to take place. During the day we visited the different hotels along the coast at the high-rise hotels and met with the wedding planners and directors to get more information on what they offer. We narrowed it down to the Marriot, Hyatt and Westin. On Saturday and Sunday evenings, my mom and me or Adam's mom and me scouted the beaches to watch people get married and to check out how their receptions looked. I was pretty set on going with the Marriot until my mom and I caught a ceremony and saw that they had placed the ceremony right next to the water sports equipment hut. Now, maybe it's just me, but that would be a pretty ridiculous and ugly photo backdrop. We also took note of the beach traffic from onlookers since Aruba's beaches are all public and the noise from nearby restaurants. After taking everything into consideration, I definitely think the Westin is the way to go. We even had a chance to talk to the mother-of-the-bride the day of her daughter's wedding and got the low-down on their take on the whole ordeal.
Now I must do the hard part and try to figure out what exactly I want at our wedding. The wedding planner gave me a check list to fill out of my "wishes" but I can't even begin to think what it is I want! I was never a girl who dreamed from a young age about my wedding and planned everything down to the tiniest detail. I think I would be happy if someone else just decided it for me and just made it classy and to our personalities after talking to us for a bit.
I better figure out soon, otherwise I'm going to keep getting nagged by the respective families and settle on the final date! 🙂