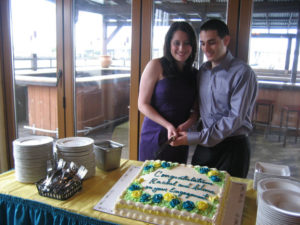 Yes, it's true, we've been engaged since May and we originally had the party planned for August but it had to be moved. We finally were able to celebrate it with many friends and family this weekend in Island Park, NY at The Coyote restaurant down by the waterfront.
Luckily for me, Adam's mom did the majority of the planning and logistical decisions. Since she was paying for it, mostly my job was just to show up. 🙂 A couple of the tasks I had to do was invite any friends I wanted to attend, come up with a music playlist (the restaurant had an iPod hookup) and come up with a scrapbook for people to sign while they were there.
I was conflicted about my guest list since Adam's mother's family is absolutely huge and she has many, many close friends that she already invited. After the invites were all sent out, our guest list was well past 80 invitees. I was so overjoyed at the amount of people and just general love that we got this weekend. All but two of my friends from high school and college from Boston were able to make the long trip from Massachusetts to Long Island, many of them driving in that day!
I must admit, where I'm from, we've never heard of engagement parties and my parents and siblings were confused as to the purpose. After Ventz & Erica were engaged last fall they had a small one in Boston but I wasn't sure what to expect from a Long Island, NY engagement party!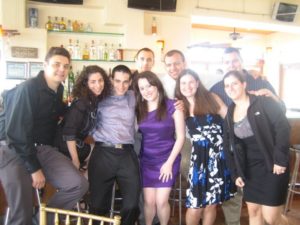 When I was tasked with coming up with a music playlist for the party, I wasn't sure what to pick. Though my favorite music, I'm sure the older attendees wouldn't appreciate hard rock, alternative and metal. I also couldn't fit an entire playlist of Lady Gaga. After looking through my library of music, I realized that I've been sitting on a couple great Mashup albums organized by BootieMashup.com that I was saving just for the day I'd have a house party. After listening to the playlist for a few weeks and removed anything that would make Grandma blush, I had a pretty good set list prepared! I ended up getting a lot of compliments from my friends who said they really enjoyed the new twist on music. Of course, a few of them were pretty surprised I didn't throw in some Nine Inch Nails for good measure. 😉
My final task was to prepare a sign in book for the guests. I subscribe to the OffBeatBride newsfeed and was very impressed with some bride's take on the photo booth idea (I will also admit that I originally thought of this in the winter when Trent Reznor married his wife and they had an old time-y photo booth at their wedding and had people put it on paper.)
I'm also quite into scrapbooking and Adam's mom picked up a white beaded album a couple months ago for me to use as I wish. I put together a packet of wedding themed stickers, brought my photo-friendly pens and a little Polaroid instant printer that I picked up the day before at the RadioShack. I was a little anxious wondering if people would be able to figure out how to print from my digital camera, but after demonstrating it to enough people, I think the rest were able to catch on. If I could do one thing over, it would be to get a different album. Unfortunately, all the pages were in plastic which meant people had to pull the paper out of the plastic wrapping before sticking their picture on and signing the paper. Some people didn't take pictures and instead signed the plastic. The markers weren't meant for plastic so the ink wiped away as soon as the page rubbed up against something else (usually the page right next to it.) I think I'll try to do something like this again for the wedding reception in Pittsburgh next June but try to make it much more streamlined and maybe even get props! 😉
One of my least favorite tasks was opening all of the wonderful gifts we got from our attendees. By the end of the day I was absolutely beat from running around meeting people and being generally sociable that I just wanted to pass out. Adam's sister Stacey and the rest of our family prodded us to open the gifts we received and write down everyone's names so we could get thank yous out by the end of the week. I had been watching our wedding registry for the past few weeks so I had a good idea about what we would potentially be getting but I was delightfully surprised by some of the off-the-cuff gifts we got. I hadn't yet decided on when/if I'd change my name and one of the reasons I gave was that everything about me online is "Rachel Ober." Ventz managed to bid on new domains for Adam and me! We are now the owners of RachelAKaplan.com, RachelAKaplan.net, and AdamJKaplan.net, hah! With a very Jewish name like "Rachel Kaplan" and "Adam Kaplan," it is damn near impossible to get a domain! Another gift we are really excited about getting is from my high school friends Scott and Pat. Scott usually brews his own beer in his basement and they gave us Cabernet and we are looking forward to opening it once we get all moved into our new house! 🙂